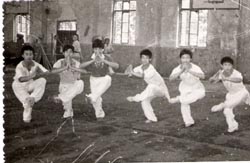 Master Luo Minghan began his Martial Arts training in China at the age of eight under some well-known masters in China, including his first instructor Chan Xianglin (a Taichi and Xingyi expert), Hubei Wushu team coach Wen Zhuang, Yang Suhua and college professors Liu Yuhua (9thDan), Jiang Bailong (8th Dan), Zhang Kejian, Yang Baosheng and Guo Jianhua. Through the excellent coaching of these and others, he gradually developed consummate skills in many traditional and modern Chinese Martial Arts weapons and hand forms.
From 1973 to 1977, Sifu Luo participated in various regional competitions in China, where he won numerous gold and silver medals for his talents, skills and outstanding performances. At age of 12 he started to represent the Hubei Wushu team, participating in the Chinese professional Martial Arts Championships in 1978, where he won the 3rd place in Youth Group in Chinese National Martial Arts Championship held in Xiangtan, Hunan. In 1982, he won first place with his college team in the group category of Double Nine-Section Whip. In 1985 He won the first place in Double Broadsword in National Martial Arts Open Championship.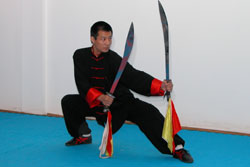 Sifu Luo also graduated from the Wuhan Institute of Physical Education with a B.A. in Chinese Martial Arts. In 1990, Sifu Luo was certified to be the First Class Wushu Judge in China. From 1984 to 1991 Sifu Luo worked for Physical Education Department of HuaZhong Normal University as Chinese Martial Arts coach in Wuhan, China.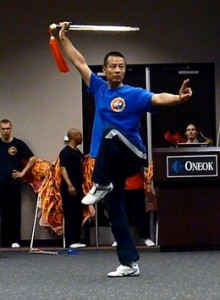 In 1992, the Chinese and the Botswana Republic government reached an agreement whereby five Chinese experts were chosen to travel to Botswana to train the Special Support Group of the Botswana President Police Force. Sifu Luo, as the acclaimed expert, took the role as the Chief Instructor of Self-Defense and Martial Arts and worked in southern Africa for three years.
Apart from his outstanding achievements in Wushu/Kungfu competition and training at regional, national and international levels, Sifu Luo's amazing skills have gained him public recognition beyond the Wushu/Kungfu world. In his native country, China, he starred and appeared in several Kungfu movies and TV series. Such as " Baihe Valley" (1992), "New Fang Shi-Yu" (1986) "Xia Jiang Yi Ying" (1984) and "Wudang Boxing" (1982). In 1991, Sifu Luo co-authored a book "Make Your Own Correct Choices" in China, as part of sports Psychological Consulting Series. The book illustrates various Wushu training methods and strategies that could be easily learned, followed and applied by young people to assist them in developing positive attitudes towards life, establishing life goals, building better personal relationships and evolving sound character. He also presents methods and procedures for enhancing the psychological abilities of athletes in the book.
In 1997, Sifu Luo came to the United States, pursuing a Bachelor of Science Degree in Community Health at University of Central Oklahoma. He has since been involved in many community health promotion events, such as being invited to give presentations and workshops on how to achieve the highest quality of life for the National Minority Aging Conference in 1998, the Southwest Society on Aging Conference in 1999, and the 15th Annual Oklahoma Minority Aging Conference in 2000. With his knowledge and experience in the field of Health Science and the principles of Chinese Martial Arts, Sifu Luo is eager to serve the community with his talents and skills.
Click here to see the profiles of our assistant coaches.
To learn more about The Center's philosophies and rules of conduct, click here.